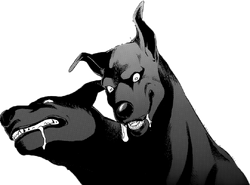 The Two-Headed Black Dog is a dog with two heads found Coal Mine near Melromarc. While mining in said cave, Naofumi and Raphtalia are attacked by one and Raphtalia has a panic attack because it reminds her of the Cerberus the killed her parents. Naofumi fends it off until she is able to gather her courage and attack. The experience during the battle allowed her to overcome her trauma and begin to trust and rely on Naofumi to protect her. It is responsible for unlocking the Dog Demon Shield which can be used for close ranged counter attacks. Found in 『Chapter 19』 of the web novel and 『Manga Volume 1 Chapter 4』
Ad blocker interference detected!
Wikia is a free-to-use site that makes money from advertising. We have a modified experience for viewers using ad blockers

Wikia is not accessible if you've made further modifications. Remove the custom ad blocker rule(s) and the page will load as expected.